Have you sponsored this project? If so, log in to comment on updates!
1 year, 8 months ago
Dear contributor to the Equal Access at Bath campaign,
Firstly, I would like to say, on behalf of the EAAB campaign team, a massive thank you for donating to our campaign. Your donation is hugely appreciated by our team and will be by a future asylum seeker who now has a far more likely chance to study at the University of Bath thanks to your donation.
As a member of the Gold Scholarship programme myself, I know that scholarships can make the difference as to whether someone is able to attend university or not, so I personally thank you, for putting us on the path to making someone's dream of a university level education a reality.
We know money is tight for a lot of people due to the current pandemic causes difficulties throughout people's lives. For lots of people, things are pretty tricky at the moment so thank you for putting the thought of others above yourself.
The campaign now has a huge springboard of money the university can use to kickstart this undergraduate asylum seeker scholarship scheme- our donations total at £5,629! Furthermore, given the sheer number of people who donated and the massive amount raised, we can make the case that this is a scheme that staff, students, members of the local community and more deeply want to see implemented.
We will keep our social media pages up to date with the next steps of the campaign so that everyone who has donated is able to see the progress we make. If you have any questions about the scholarship scheme or our campaign, please do get in touch, my email is: frgb20@bath.ac.uk
Thank you so much again for your generosity, right when the world seems to need it most.
All the best, 
the Equal Access at Bath campaign team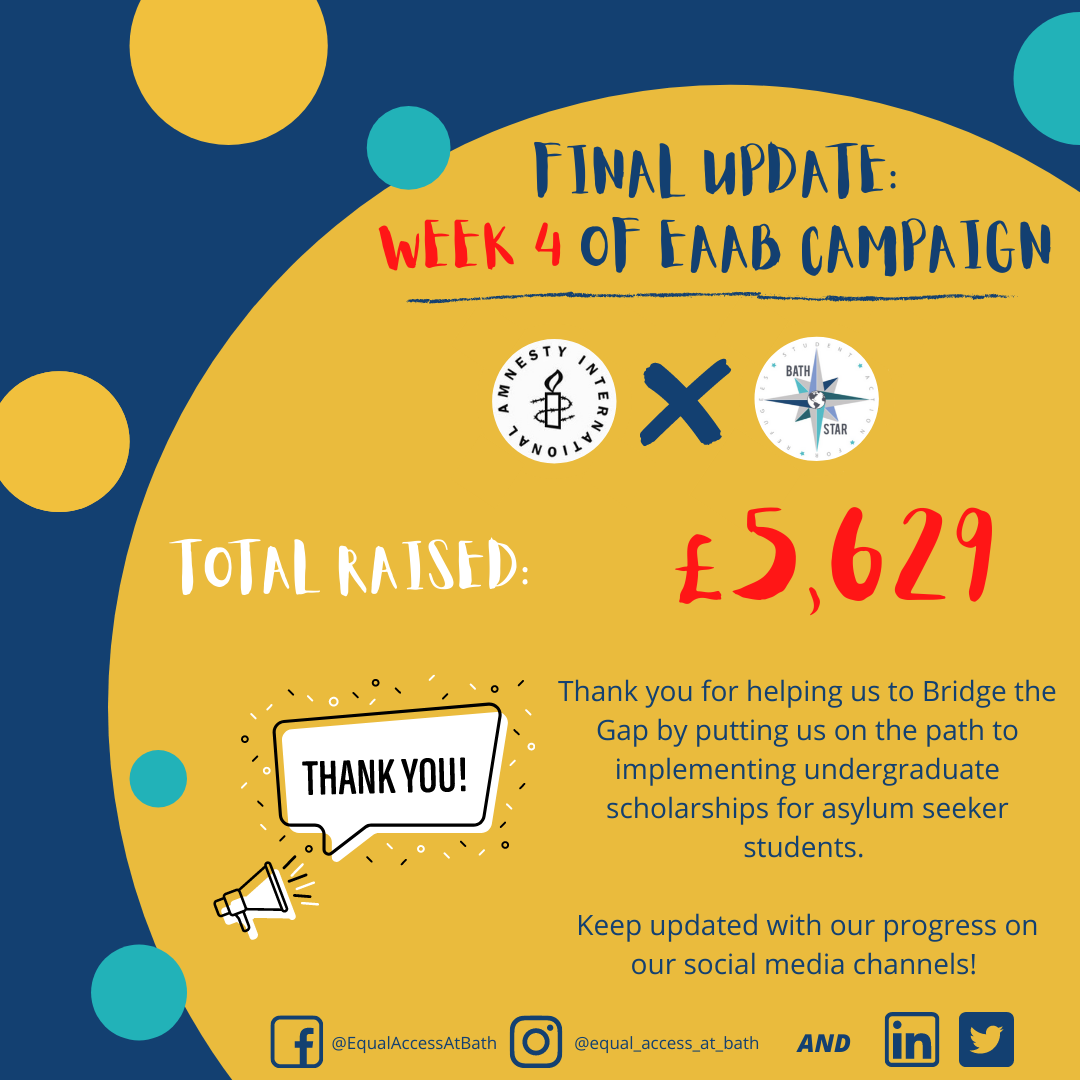 1 year, 8 months ago
Thank you all so much for helping the campaign raise so much money so far!
With only a few days to go, please consider how much help your donation could be to an asylum seeker unable to currently access a university education.
https://bath.hubbub.net/p/Equal-Access-at-Bath/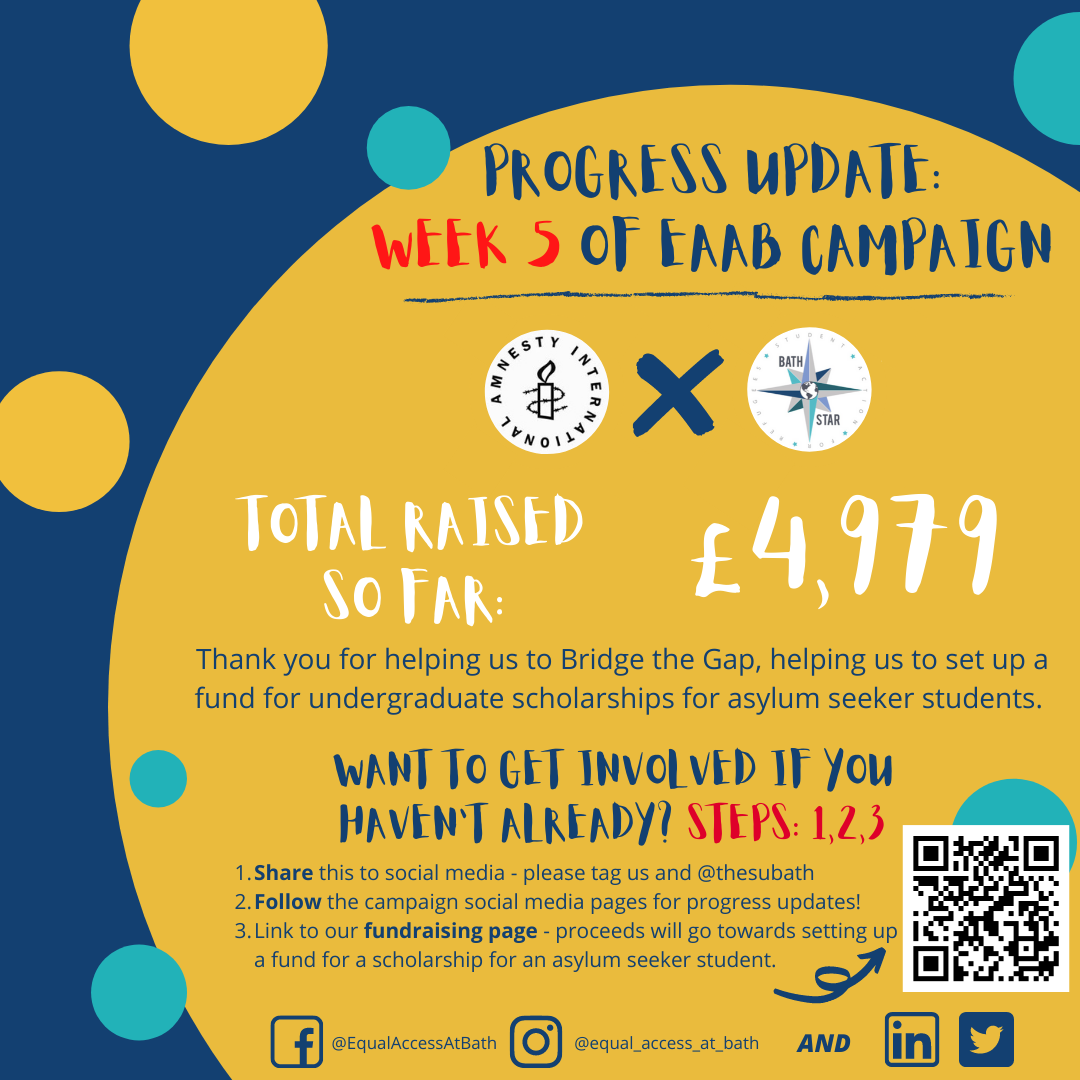 1 year, 8 months ago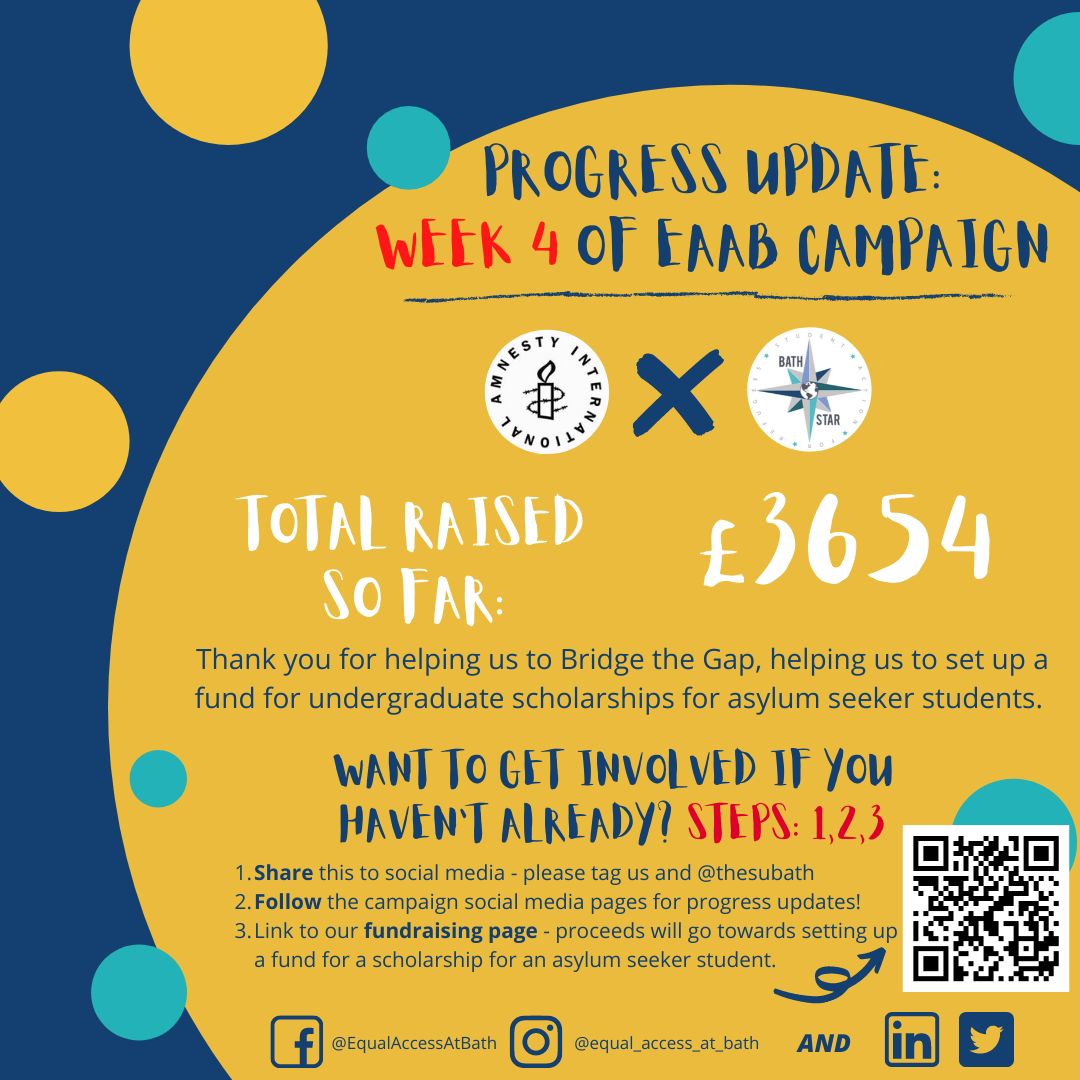 1 year, 9 months ago
As we near the halfway point of our campaign, I would just like to thank everyone who has donated so so much! 
We are still a while away from our goal so please, if you can, consider donating to this cause. The more money we raise, the more likely it is for this scholarship scheme to be implemented. Asylum seekers need you.
Thank you so so much to everyone who has donated and shared around our campaign already!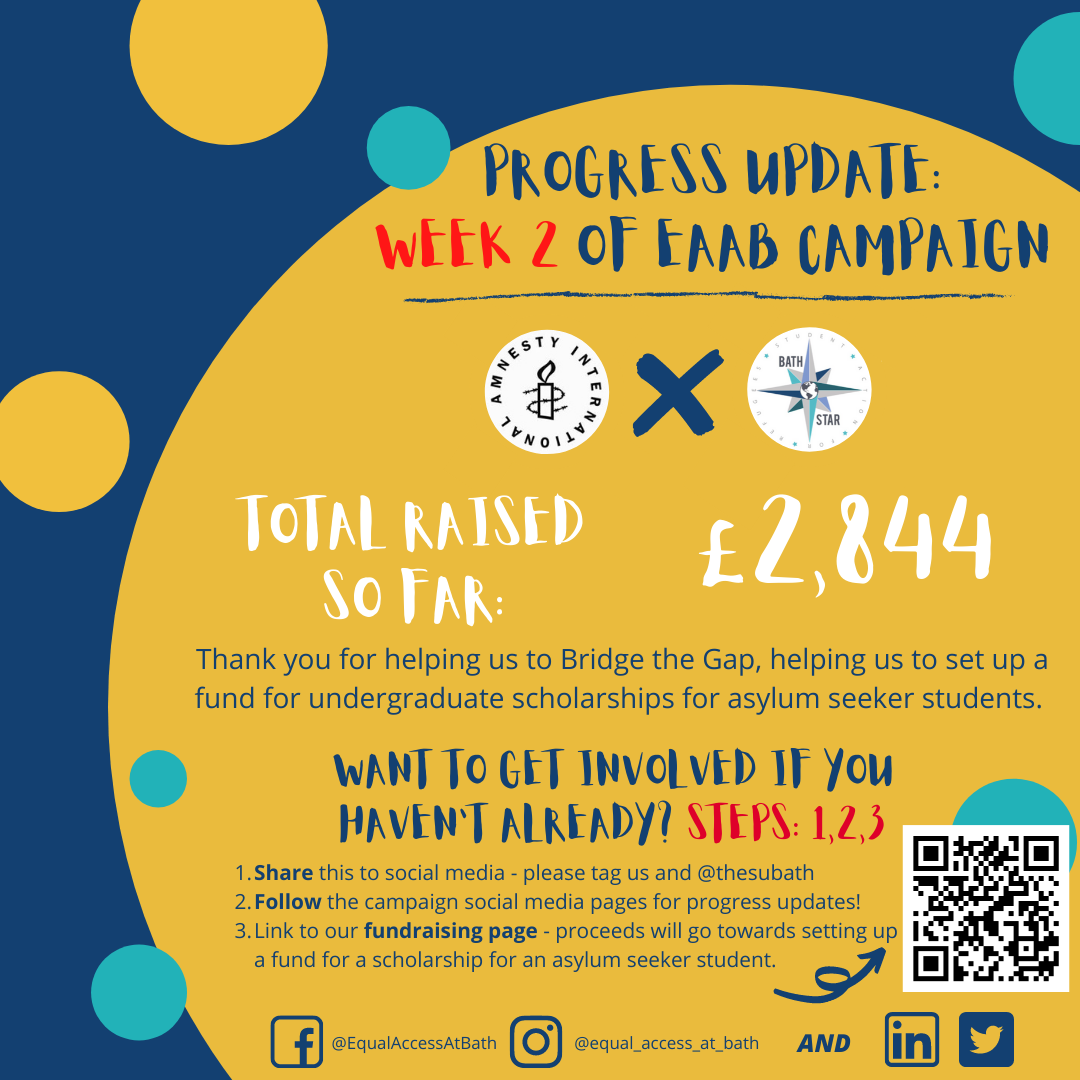 1 year, 9 months ago
Thank you all so so much for helping us such a huge amount of money so far!!
We still have a long way to go to reach our goal (and more!) so if you can, please help this amazing cause by donating whatever you can.
We appreciate all of your support massively. Thank you so much!
1 year, 9 months ago
We are so grateful to the members of the Bath branch of the UCU who have offered a generous £500 donation from their scholarship fund to be used as a matching pot to kick off this important appeal. This donation has been further supplemented by gifts from the members of Bath STAR and Amnesty. This funding will allow us to match the first £688 of donations made, meaning that your donations up to this point will have double the impact! Thank you so much!